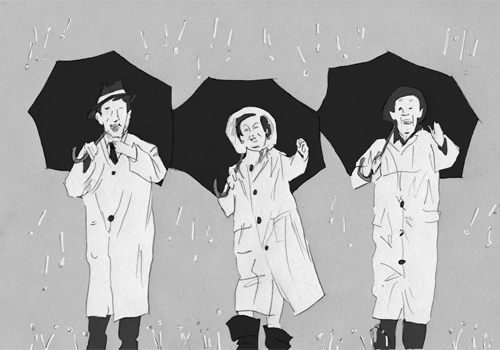 Singing in the Rain & Best Friendships
[ 53:55 ]
Play Now
|
Play in Popup
|
Download
California may be suffering one of the most severe droughts in recorded history, but here at Flixwise it is positively storming. On today's podcast Lady P gathers two of her closest friends, Julianne Martin and Kabir Singh, to revel in the Technicolor glory of one of the crowning achievements of the Hollywood studio system. It's SINGIN' IN THE RAIN! The Stanley Donen 1952 musical ranks as the 20th Greatest Movie of All Time on the Sight and Sound Critic's Poll. Listen up to find out if our trio are as elated by the film as Gene Kelly is by precipitation.
And speaking of friendships, the panel follows up their SINGIN' IN THE RAIN analysis with a little ode to platonic love. They chat about the greatest movie friendships in cinema history! Or at least their personal favorites.
Sentiment abounds on today's show, but in case things weren't touchy-feely enough, they close out the show with their final notes of positivity.
Here's Julianne's
Here's Kabir's
Here's Lady P's
And, as promised, here's a little video of Lady P tap dancing. Look for the teal raincoat.